5-Star Reviews for Custom Cabinets
5-Star Reviews are attention getters, and this is especially true for large purchases like Custom Cabinets. A testimonial can give you the insight that you need to proceed with confidence. Moreover, multiple and consistent reviews can help you know what to expect.
Consumers definitely benefit from sharing personal experiences, but reviews are also extremely valuable for businesses. These testimonials are literal word-of-mouth advertising and, in today's online world, can make or break a business. This is especially true for smaller businesses who have to compete against the big box giants, like Home Depot or Closet World. 
Here is an example of a local company making good on it's promises and getting the reviews to prove it!  
Custom Cabinets by C&L Design Specialists, Inc
Since 2012, this company has been closing deals, building referrals, bringing in repeat business, and amassing 5-Star reviews from homeowners throughout Southern California.  Let's see what makes this company stand out.
Meet "virtual" Craig Sussman, owner of C & L Design Specialists, Inc.  After decades in cabinet sales and designing, he is now one less driver on the freeway and the guy you may never meet in person.  (That being said, he can never truly resist the opportunity to visit his creations on installation day!)
By utilizing state-of-the-art computer technology, C & L Design Specialists has developed a turnkey process that takes the homeowner through a 3D design of their custom cabinetry. Furthermore, it's all done while they watch, real-time, from their own computer screen. No salesman in the home. No long-winded sales pitch or hard-sell pressure tactics. Best of all, it's free.
In fact, his company reports that 83% of all leads converted to sales have never had a face-to-face meeting.  Pretty impressive. Not to mention the fact that the money saved in travel costs translates to a better price for the homeowner.
Visit the C&L website and fill out a contact form.  C&L will reach out to schedule your Virtual Online Design session with Craig. 

Within 30 minutes of the scheduled appointment, you will receive an email with a link (one-click) that allows you to access the designer's computer screen.  

Collaborate with Craig in real-time and watch your design evolve. The average online meeting takes about 40 minutes.  At the end of your session, a 3D rendering and estimate are sent via email.  
Now, let's take a look at what real customers are saying about their experience.
5-Star Reviews & Testimonials
It has been said that a picture speaks a thousand words.  True.  But when you read endorsements for C&L, you realize that people are not only posting photos, but writing extensively about the entire experience.  In addition, they consistently comment on the Virtual Design meeting.
Specifically, C&L's Yelp page features (19) back-to-back, 5-Star reviews and an additional (7) 5-star reviews for custom cabinets can be found in the lower section. People really love this company!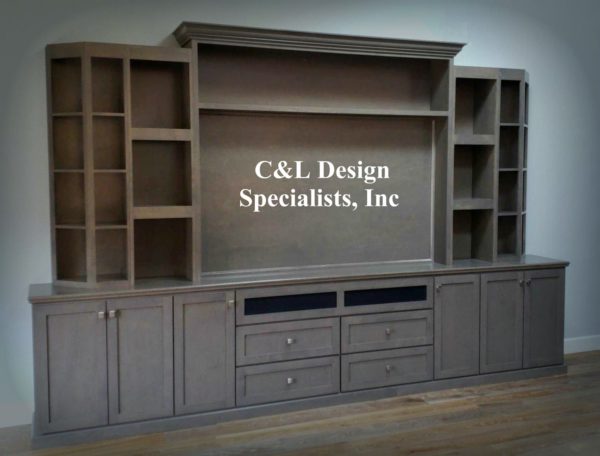 "Our room was transformed into something amazing. There is one drawback to having C&L do your cabinets, you will want them to do the cabinets everywhere else. " Cameron in Corona, CA

"WOW was I impressed. The entire process and the final result of his design blew me away. "  Wade in Oceanside, CA 

"The process from beginning to end was painless. The coolest part is the virtual cabinet design web tool they use. It allows you to go online with the designer and manipulate CAD from every angle with every option. What we got was EXACTLY the same as the CAD."  Terry in San Diego, CA

"

C&L is awesome–from start to finish. Craig is really an artisan when it comes to design and is excellent at what he does!"  Doug in Oceanside, CA

"Simply said, if anyone is looking for a professional custom design company to trust to do any custom woodwork for their home, this is the ONLY company they should call.  Bassem in Irvine, CA
It is worth mentioning that your custom design is sent to you with no obligation. That is how confident this company is with their product and pricing structure.  Is it any wonder that their motto is "Expect Excellence!" ?
After the Design
Once your design is approved, the specifications are released to the factory.  All cabinets are hand-crafted using hand-selected woods and hand applied finishes. In addition, everything is built right here in Southern California. Even their LED lighting packages are Made in the USA.
Upon completion, your unit is loaded onto a trailer and delivered for same day installation.  Since the cabinetry is full face-frame, as opposed to frameless, the average project installation is completed in one day.
C & L Designs Specialists, Inc. designs, builds, and installs real wood, face frame cabinetry. None of their cabinetry is prefabricated. They specialize in entertainment centers, home bars, offices, display cabinets, bookcases, wardrobes, mudrooms, mantles, and units for nearly any area in your home or business.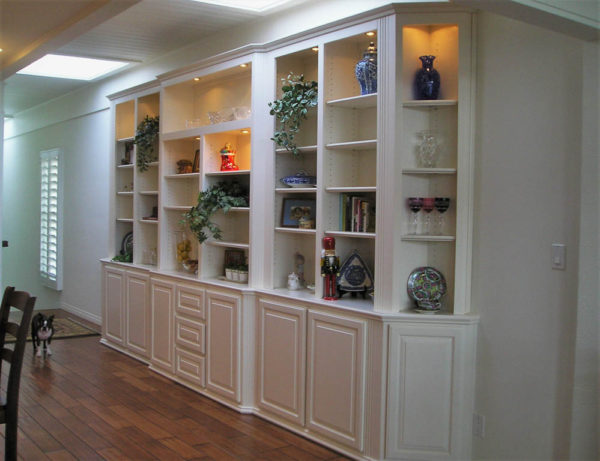 https://candldesignsinc.com
951-471-4847 or 888-467-4847
Serving Southern California