Since 2018, celebrity Danny Woodburn has allowed his likeness to be featured on all C&L's online platforms.
There was never a penny exchanged between C&L Design Specialists and Danny Woodburn for his endorsement. Danny's website cover words were taken from an email he sent to us after his installation
Amy and I marvel at our new office every day we get up. It's the highlight of our home. I am constantly talking to people about it and showing them pictures, to which they respond "Holy %#@!"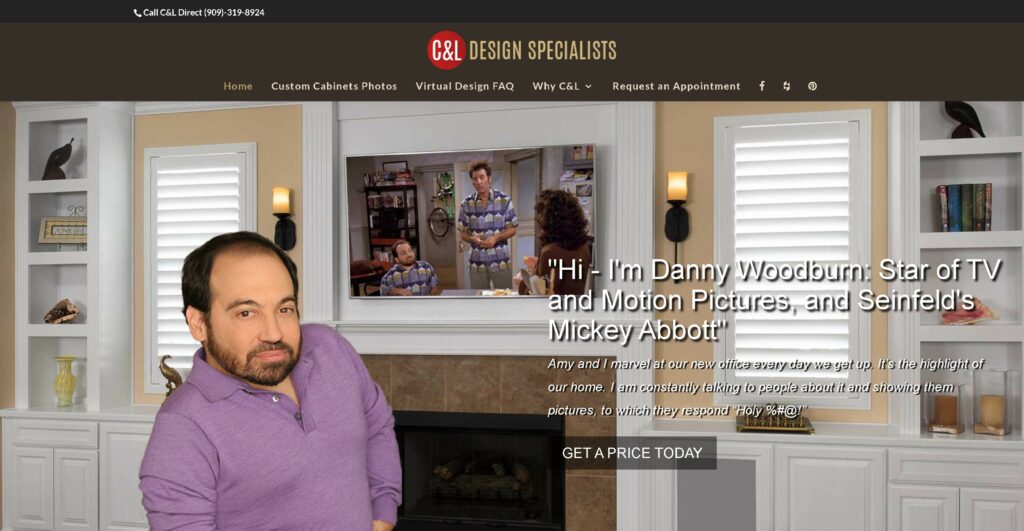 Danny worked work with our designer in an online meeting a few times until he had helped us design his dream entertainment/work center.
Two years ago Danny and his wife Amy moved from their Hollywood home, but before they did, he called us to help them move the projected we'd created. He let us know, he would rather have C&L make the transfer to his new home, as he thought it me be damaged by the movers, and we happily accommodated his request!
In 2019 Danny had told several friends and colleagues about C&L. One of the friends just happened to be the creator is the basketball shooting dog, AirBud. Malibu AirBud Studios contacted C&L to design and build the woodwork for their Motion Picture screening room.
99.9% of C&L's clients have no celebrity status, but that still hasn't stopped them from referring us whenever they get the chance.
The cool thing about making clients happy is the money we saved from ever needing to advertise.
Google us, we are usually right at the top for custom home entertainment centers, custom home offices, and custom home bars, and without having to spend our clients money to find new clients!
So when you're ready for one of the above give us a call! It's easy to remember us, as were the ones that actually answer our phone when called.
.
C&L, we give our our customer the custom they deserve!